Choose from the Menu Below:
**********************************
On Tuesday the 19th September 2017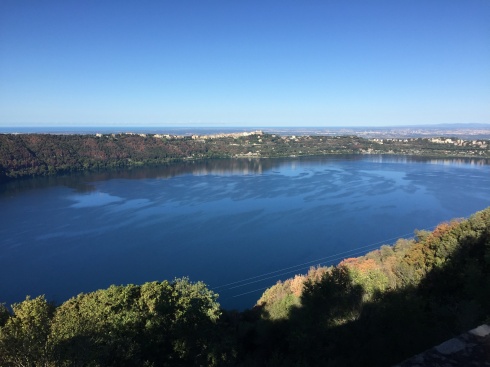 Twenty pilgrims set off from Kidderminster en-route to Bristol Airport for our flight to Rome Fiumicino. We were met by our leader Anthony Cole and taken by coach to our accommodation for the week.Beautiful Villa Palazzola on Lake Albano, directly opposite Castel Gondolfo, the Papal summer residence. Villa Palazzola, a 13th century monastery is now a retreat for the English College and Pilgrimage centre. We settled into our rooms then to Mass in the church and evening meal. Each evening meal was followed by us all gathering round an Altar to our Lady, singing Salve Regina, led by the resident priest, Father Martin.
Wednesday 20th September. By local coach to the Monastery of Subiaco, St. Benedict's monastery, built into the natural rocks high on a hillside. A young lady gave us a guided tour of this truly remarkable place. St.Benedict lived in a cave in the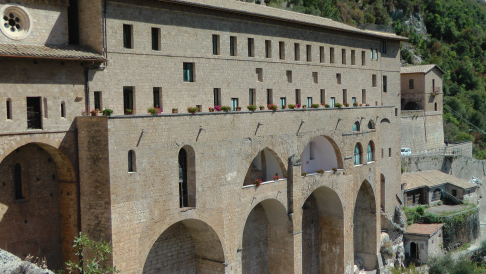 hillside which is now enclosed within the walls. Here Father Chris said Mass in the Chapel. We experienced peace, tranquillity and spirituality. A wonderful day.
Back down the hill to enjoy our packed lunch [with wine] sitting on a wall overlooking the beautiful countryside. Then onto Tivoli, a typical Italian Town, and the gardens of Villa D'Este, a fine example of late renaissance architecture. Franz Liszt, the composer, had stayed there as a guest of Cardinal Gustav von Hohenlohe in 1877.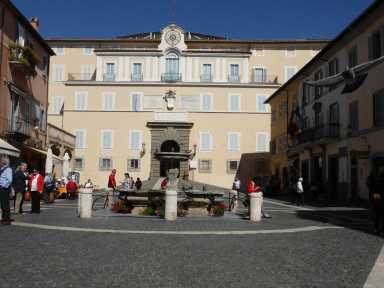 We returned to Palazzola, for evening meal and Salve.
Thursday 21st September. An easier day today. Visit to Castel Gondolfo with a tour of the Papal Palace. Very interesting with many exhibits from Popes over the centuries. Returned to Palazzola for lunch on the terrace under the trees. The afternoon was free to explore and walk round the gardens or further afield for some!! and to sit on the terrace and enjoy the views.. We again had mass with Father Chris, in the Chapel, before evening meal and salve.
Friday 22nd September. We had a full day excursion into Rome. Our drop off point was a short walk to the Vatican and St. Peters Square. Our timed entry [10.30am] for guided tour of St. Peter's Basilica was very informative. There was lots of camera action as we walked around.
Visitors from all over the world filled the Basilica. So much to see and take in. A wonderful experience. The afternoon we visited the Borghese Gardens for a picnic lunch with wine. Nice to relax in lovely surroundings. Later we visited the Basilica of St. Mary Major [where popes celebrated the first mass of Christmas until 1870] and the Church of San Alfonso [Cardinal Vincent's titular church] which has an icon of Our Lady of Perpetual Succour. This was a beautiful setting for Holy Mass with Father Chris who finds a way of bringing the whole day together and making it special. We all sat on the Altar close to Father Chris and the Blessed Sacrament. One of the special moments of the visit. We returned to Palazzola and evening meal followed by Salve.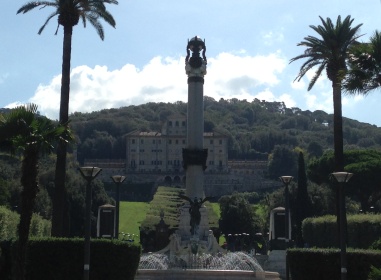 Saturday 23rd September. A visit to Frascati, a short distance from Palazzola [famous for its white wine and connection with Cardinal the Duke of York]. It is also famous for its notable villas built in the 16th century, including the imposing Villa Aldobrandini. The ice cream was good too in a local cafe. We returned to Palazzola for lunch on the terrace and an afternoon to rest. Evening Mass again with Father Chris, before dinner followed by Salve.
Sunday 24th September. Today we travelled into Rome. After an early start, we had mass in the Venerable English College [the oldest English institution abroad, founded in 1362]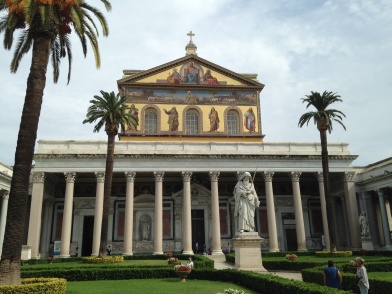 a magnificent church inside this college where many priests have studied over the ages [including Father Chris] Also the English Martyrs that we remember every year! We were greeted and made very welcome by the principal of the College. We then transferred to St. Peter's Square again to hear the Angelus and the words of the Holy Father. He spoke from a window high up in the Vatican building which was relayed on large television screens around the square. Many, young and old were there cheering and clapping at the conclusion. We then went to Villa Celimontana Park for a picnic lunch with wine!! Onto the Basilica St. Pauls Outside the Walls with many English connections. A vast church making one feel very small. 266 popes are all portrayed in mosaics around the walls. Again, so much to see. Return to Palazzola for evening meal and salve.
Monday 25th of September. Today, off to Monte Cassino,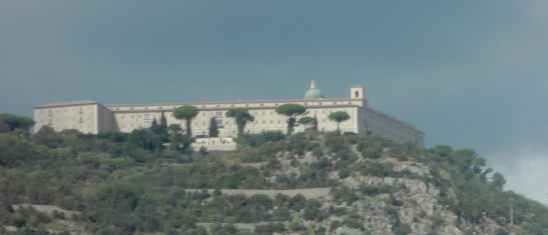 with its Monastery perched high on the hilltops above the town. Here both St. Benedict and his twin sister, Sister Scholastica are buried. Panoramic views from all sides. Understandably, this was a strategic vantage point in W.W.2 and looking at the Monastery today, it is quite extraordinary to think that almost all is a total rebuild of the original. Though very different to Subiaco, the presence of the past was greatly felt. We then returned to the lower area and onto the Cassino Commonwealth War Cemetery.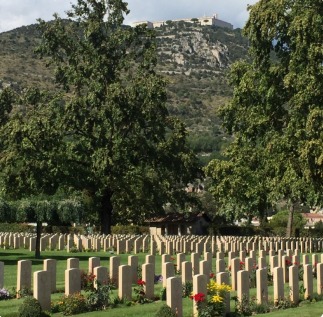 Beautifully kept. Here lie the bodies of 2,600 servicemen aged between 18 to 25years, 300 known only unto God. We spent about twenty minutes here, each with our own private thoughts and prayers. Such a waste of young lives. Our lunch was at a local hotel and they certainly looked after us and fed us well. Again the wine flowed! We returned to Palazzola for our final evening mass with Father Chris, who again found the words and feel of the day!
Tuesday 26th September. Early morning mass with Father Chris, then after breakfast, visit to 2 local towns, firstly to Genzano, market day here. Quite a few euros went into the local economy!! Next to Nemi, a lovely little lakeside town perched on a hillside. The town dates from the early 16th Century. The Sanctuary of the Most Holy Cross has a striking crucifix carved by the Franciscan Brother Vincenzo da Bassiano, the face appeared as a miracle. Here we had coffee and sampled the local wild strawberry tarts. Very good. Back to Palazzola for lunch on the terrace. Here we gave our thanks to Fr. Martin for bringing us together in prayer and salve each evening, the staff at Palazzola. Also to our Fr. Chris for his lovely masses. To Bob and Jane for their time and effort put into Order of Service sheets and music. To Peter Henley for serving mass each day, the readers, and to Margaret Tillott for playing the organ on our last evening.
A wonderful pilgrimage !!
(You can click on any photo to see a larger image)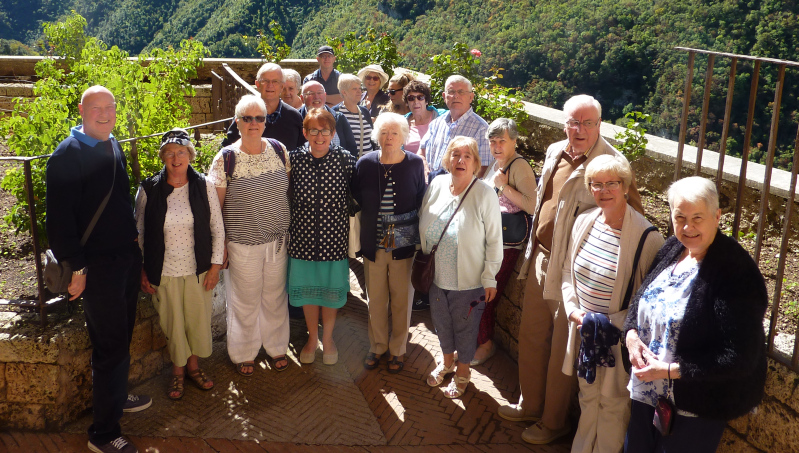 **********************************
Pilgrimage to Holywell - "The Lourdes of Wales"
Early one morning in early August some 30 pilgrims set off by coach for Holywell in North Wales to visit St. Winefride's Well.
Holywell is the only place in Britain with a continuous history for over 13 centuries of public pilgrimage. According to tradition St. Winefride's Well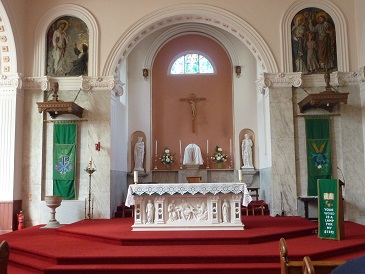 first bubbled out at the spot where her would be rapist, Caradog, cut off her head with his sword. Restored to life with the prayers of her uncle, St. Beuno, she lived on as a nun until her second death 22 years later. Records of healings at the Well survive from the 12 century and healings still continue to the present time.
After a prayer from Fr. Chris we were soon on our way armed with an Eddy Barry quiz to stretch and baffle our minds.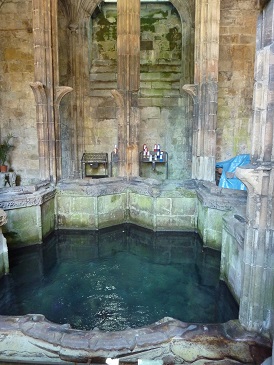 In the expert hands of our driver, Paul, with sunshine, chat and laughter all the way we arrived safely in the town of Holywell, Flintshire on the southern edge of The Dee Estuary. Fr Chris provided us with a history of St. Winefride to read on the journey.
Our first stop was at the parish church of St Winefride where, after a welcome from a youthful parish priest, Fr. Chris celebrated Mass for a mixed congregation of pilgrims, visitors and locals. It was in this church, some years ago, that Fr Chris celebrated his first Mass after being ordained. Being a 'local lad' he was then able to guide us through a maze of back streets from the Church to the well.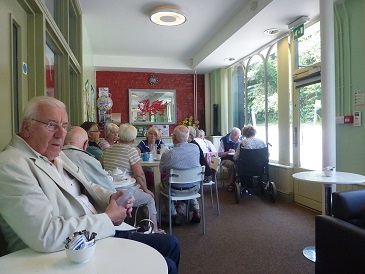 We gathered in the Late Perpendicular Gothic building around the bubbling waters of St. Winefride's Well and the custodian told us her story which he continued by the side of the bathing pool nearby. Following custom we dipped our hands and washed our faces in the Holy Water.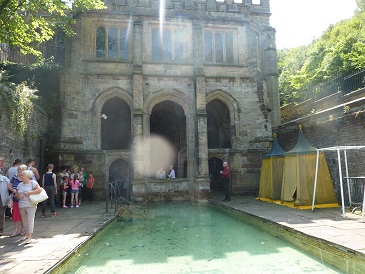 Bathing is allowed at certain times of the morning and late afternoon. Those who were able visited the museum and filled bottles to take home. A visit to the gift shop preceded a welcome time in the tea shop which seemed to expand to accommodate us all. As we left a number of 'travellers' old and young were enjoying their 'happy-splashy' time in the pool.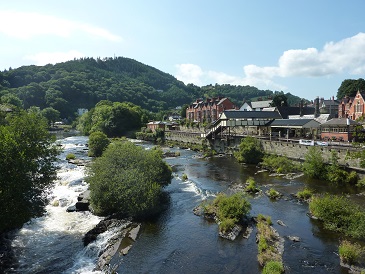 On to Llangollen and time to study Fr Chris's map of the town and his useful ideas of how to spend our time. We soon scattered to follow our choices of shops, railway, canal trip, or just find a quiet spot to have lunch. There was plenty to do and an excess of ice cream shops.
Reluctantly we left the town with Fred nursing a sore face after a fall; his was the only healing (Paramedic) that we witnesses, unless others have happened since through the powers of the Holy Waters of St Winefride's Well.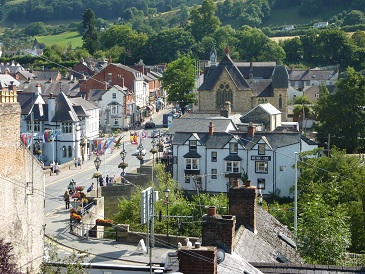 Our journey home was threaded through sunlit, golden, harvest ready fields.
''Nature is painting day after day pictures of infinite beauty if only we had eyes to see them.'' John Ruskin
We did have eyes to see them on our inspiring pilgrimage and we arrived back at St Wulstan's refreshed and blessed after a marvellous day and lookingforward to the next one!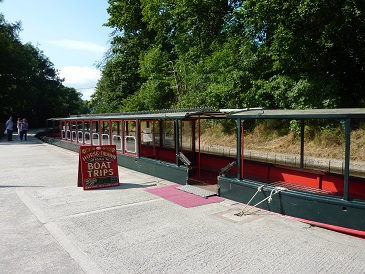 Thanks to Eddy and Fr Chris for their input to the day.
Alan and Pat Norris
**********************************
Professor Derek Smith Receives Ubi Caritas Award
Feast of the Sacred Heart 15th June 2012
When we heard that Prof Derek Smith had been awarded the Ubi Caritas medal Fr Stephen immediately suggested having the ceremony at St Wulstan's rather than St Chad's Cathedral. Derek could invite his many friends & family and also collegues from his Justice and Peace ministry, as well as other walks of life. The service could become a special event for him rather than just a small part of a larger event. On the day the atmosphere in the Church was tremendous with so many well wisher, including many from other denominations, there to see Derek collect his medal from Bishop William Kenney, himself a staunch advocate for Justice and Peace and an old friend of Derek's for many years. The warmth between them is obvious in the accompanying photo. Music for the service was provided by none other than Kevin Mayhew on the organ, supported by St Wulstan's own choir and members of the Emmaus music group. Kevin, of course, is Derek's brother in law. As well as Bishop Kenney the Mass was concelebrated by Parish Priest Fr Stephen Pimlott and his immediate predecessor Fr. John Cross (now at St Peter's, Leamington Spa)
This award was made in recognition of Derek's work in the Justice and Peace movement both in the parish and in the Archdiocese and his involvement in ecumenism in Birmingham, Stourport and Bewdley and more widely in Worcestershire . Both of these commitments originated in St.Dunstan's parish in Kings Heath,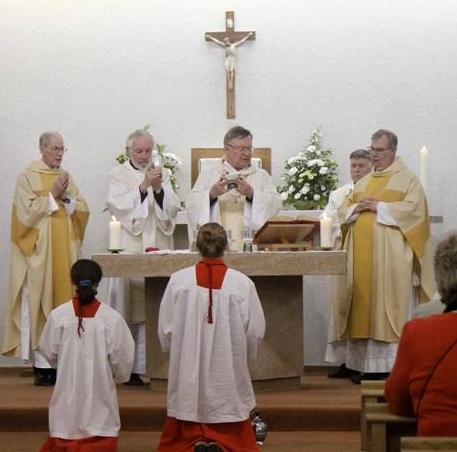 Birmingham with the strong encouragement inthe late 1970s of the late Canon Eugene O'Sullivan to establish an ecumenical Justice and Peace Group (initially with the strong participation of localQuakers). This went well and after moving to Worcestershire he initiated asimilar entirely ecumenical Group in Stourport at St. Wulstan's in 1991. In each year since then a monthly programme of talks, interactive events, visits, reflective and social activities have been arranged annually. As well as Catholics, local Anglicans and Methodists, occasionally Baptists and Quakers and some from non-religious organisations have been involved in planning the meetings as well as attending them. The average attendance at meetings has risen from 6 to 20 occasionally rising to around 50 for special events.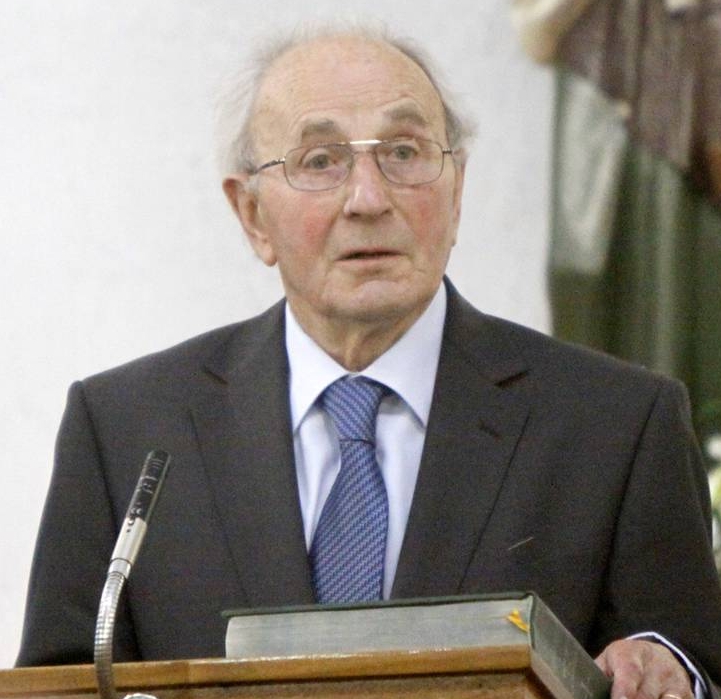 Major commitments other than meetings haveincluded have included the establishment of an ecumenical Fairtrade Group which led to the achievement by the town of Stourport of Fairtrade status and regular inter-faith events and visits. All meetings include reflection and prayer to which the main part of one entire meeting each year is devoted.
In addition to these essentially local activities, Derek has been a member of the Diocesan Justice and Peace Commission for over 30 years (with a letter of invitation from Archbishop Couve de Mourville to prove it!) .He was much involved with the Commission's reorganisation and annual Assembly arrangements in recent years latterly as its Chairman of meetings. In Worcestershire, he is the county representative (by invitation) on the organising committee of the Magdeburg Group of the Worcester Anglican Diocese concerned with links with the Lutheran churches in Magdeburg in the former Easrern Germany. Its major commitment isthe organisation of a biennial Three Confessions Conference to which Catholicshere and from Germany attend. He also contributed to services and groupactivities in several Anglican churches in or near the Teme valley where he andhis wife lived for more than 20 years.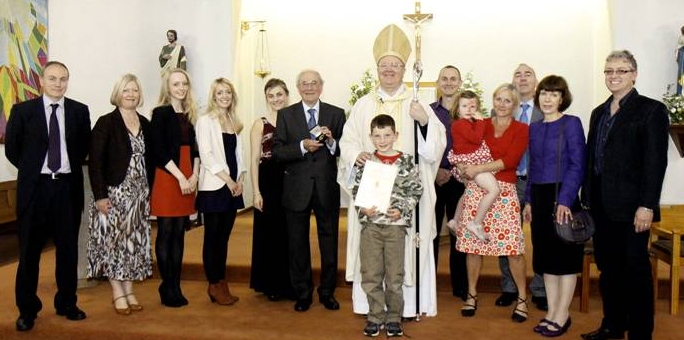 Derekinsists that while it is personally a great honour to receive a Ubi Caritas award (and for the recognition by the Archdiocese of the importance of Justice and Peace and ecumenical work) his work has involved commitment and support from many different people over the years. He thanks them all most profoundly. However, he would particularly wish to express his gratitude to his late wife Dr.Beryl Smith for all that she did with him in their joint activities relevant to the award, and to Canon Guy Smith, a local retired Anglican priest, for his support and inspiration the who, sadly, also died recently. He has dedicated this award to them
This article was added in July 2012
Parish Pilgrimage to Rome and Assisi
Early Monday morning, 12th September 2011, twenty-three pilgrims, including Father Stephen and Deacon John, set out with great excitement for Heathrow to catch our flight to Rome. On arrival at Rome airport we were met by our guide, Sinead, who escorted us to the Hotel Domos Carmelitana where we settled in and then attended Holy Mass in the Hotel Chapel.
Very early Tuesday morning we attended Holy Mass in Saint Peter's Basilica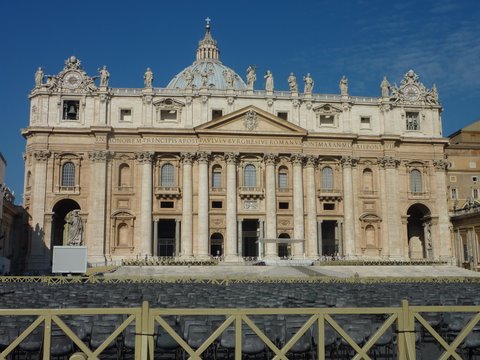 and then returned to the hotel for breakfast. Later we had a tour of Rome by coach so we could begin to get our bearings and see some of the sights of this magnificent capital city. We had a brief stop at the Basilica of St Paul's Outside the Walls, which is one of the four ancient major basilicas in Rome. The basilica was founded by the Roman Emperor Constantine I over the burial place of Saint Paul,
where it is said that, after the Apostle's execution, his followers erected a memorial, called a cella memoriae. In the afternoon we had some free time to explore. Our hotel was close to Saint Peter's Square, so most people returned to have a look at the wonderful Basilica of Saint Peter and spend some time in prayer.
Wednesday morning was the highlight of the pilgrimage as we settled in our seats in Paul VI Audience Hall to await the audience with Pope Benedict.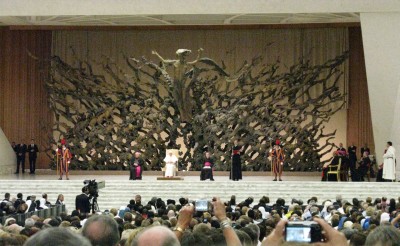 This consists of short teachings and readings mainly in Italian but also in other European languages. As Pope Benedict entered six thousand people shouted with joy and many waved flags from around the world. During the audience all the visiting groups and parishes were announced to his Holiness often to great cheers and sometimes with spontaneous singing. We were mentioned twice, once as Holy Family, Bewdley and again as Saint Wulstan and Saint Thomas of Canterbury. We did our best to cheer as loudly as we could even though our numbers were small. At the end of the audience Pope Benedict led us in the Our Father in Latin and then as Head of the Catholic Church gave all those present his Apostolic Blessing. What a wonderful experience that will remain forever with those lucky enough to be present.
Wednesday afternoon we visited some of the well-known sights of Rome on foot. We saw the Spanish Steps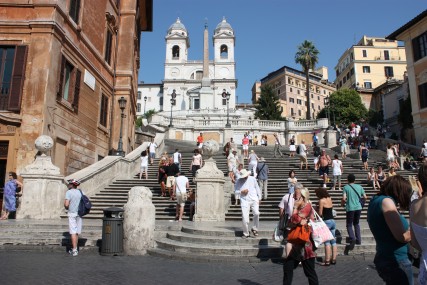 and at the top the Church of Trinita del Monti, The Trevi Fountain and the Pantheon. The Pantheon is a perfect example of a Roman building that has remained almost unchanged despite the passage of almost 2000 years.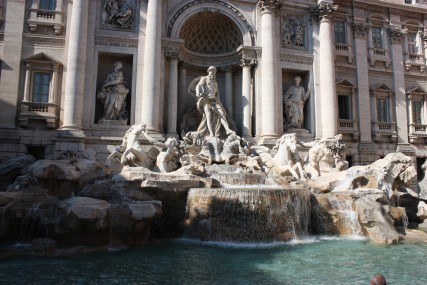 The dome is one of the marvels of Roman engineering as there is a nine-metre hole in the middle of the ceiling. It is a dramatic source of light, casting a powerful beam of sunlight into the interior on sunny days. Late afternoon Father Stephen celebrated the Holy Mass in the hotel.
On Thursday morning we visited the Vatican Museums and the Sistine Chapel. The Vatican Museums is a complex of different pontifical museums and galleries that began under the patronage of popes Clement XIV (1769-1774) and Pius VI (1775-1799).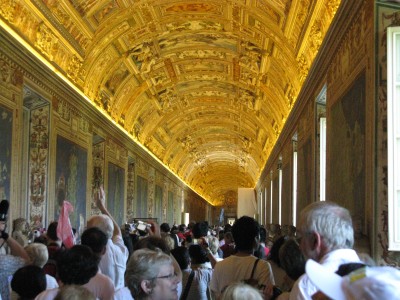 Later Pius VII (1800-1823) considerably expanded the collections of Classical Antiquities. The Museums also include the Gallery of Tapestries and the Gallery of Maps, which one walks through to arrive in the Sistine Chapel. The Chapel was built for Sixtus IV between 1477 and 1481, and between 1480 and 1483 the lower walls were frescoed by several of the leading artists of their day, notably Perugino, Domenico Ghirlandaio and Sandro Botticelli. A quarter of a century later, Michaelangelo was commissioned to paint the chapel's ceiling. The work would take him four years and was completed in 1512 and the paintings on the ceiling are truly amazing. The ceiling on its own is a masterpiece, but the entire wall behind the altar contains Michaelangelo's breathtaking 'Last Supper'. One could spend hours looking at the detail in the fresco, but the crowds in the Chapel are huge and everyone is soon moved on. The morning concluded with Holy Mass in Saint Anne's Church nearby and the afternoon was free time.
Friday morning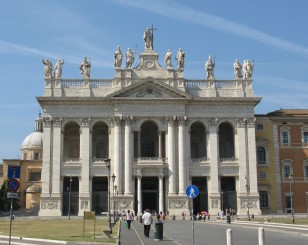 began with Holy Mass at Santo Spirito in Sassia, a hospital church dedicated to the Holy Spirit. Most of us then took the open-top sightseeing bus around the city. Our first stop was Santa Maria Maggiore, which is the most important of some eighty churches in Rome dedicated to the Virgin Mary. The ancient basilica's richly decorated interior is one of the most sumptuous in Italy. We next visited San Giovanni in Laterano, which is the cathedral church of Rome. Saint Peter's lies in the Vatican, a separate sovereign state. It has a soaring façade and a beautiful interior, cloister and baptistery that are well worth visiting. As the day progressed the group split up so that smaller groups and individuals could pursue their own favourite interests.
Rome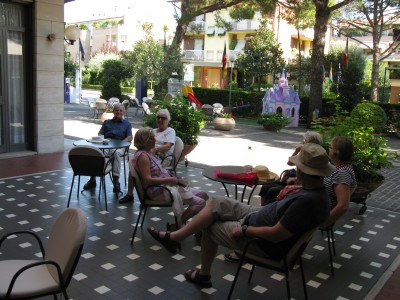 was an amazing city to see, especially for a first time visitor, but on Saturday it was time to move on to our next stop, Assisi. The first view is from the coach as Assisi is seen perched on the western flank of Monte Subasio, dominating the surroundings. It is the birthplace of Saint Francis, who founded the Franciscan religious order in 1208 and of Saint Clare, the founder of the Poor Sisters, which later became the Order of Poor Clares. We attended Holy Mass at the Basilica di Santa Maria degli Angeli in the Santa Chiara Chapel.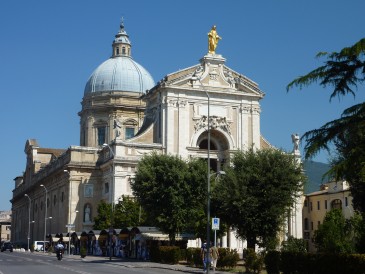 The Basilica houses the Porziuncola. After abandoning the wealth of his family, Saint Francis found asylum in this old, ninth century chapel, located nowadays inside the large Basilica. Later in the afternoon some of us visited the Assisi War Grave Cemetery where 900 servicemen killed in World War Two are buried. In this quiet place Father Stephen led us in prayer for the fallen and for peace in the future. After dinner at our hotel we returned to the Basilica for the evening torchlight procession, very reminiscent of the torchlight procession in Lourdes but on a smaller scale.
Sunday was spent in the small town of Assisi. We were greeted by our Italian Tour Guide who gave us a great deal of information about the town and in particular the two basilicas. The Basilica di Santa Chiara at the top of the town is a 13th century church that houses the relics of Saint Clare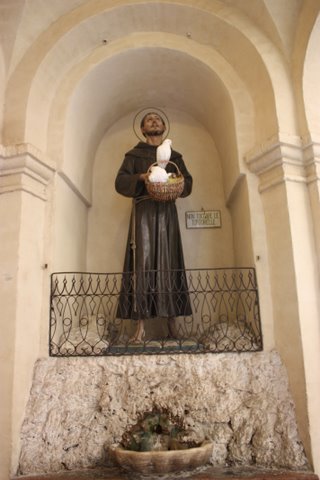 , friend and protégé of Saint Francis, as well as the miraculous crucifix that spoke to Saint Francis. We walked through the town of steep, narrow streets that has altered very little since the time of Saint Francis. At the lower end of the town is the Basilica di San Francesco, which is the mother church of the Franciscan Order. The basilica, begun in 1228, is built into the side of a hill and comprises an Upper Church and a Lower Church and a crypt where the remains of Saint Francis are interred. Many important Italian artists, including Giotto and Pietro Cavallini, decorated both churches with frescoes. We attended Holy Mass in the Capella della Pace in the Basilica.
On Monday we set out to return to Rome to fly home and on the way we visited the city of Orvieto, which is perched on a flat summit above vertical cliffs.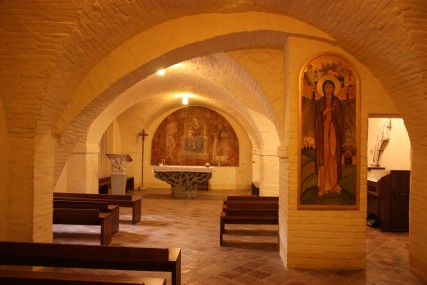 To get from the coach park to the town we needed to take the funicular railway which was quite an experience especially as we shared the ride with a group of very excitable Italians. The Cathedral in Orvieto is dedicated to the Assumption of the Virgin Mary and throughout has magnificent paintings and frescos. Father Stephen celebrated the last Holy Mass of the pilgrimage in one of the Cathedral Chapels before we returned to the coach and continued on our homeward journey.
Many memories of the pilgrimage will remain with us all, and a special thanks to Eddie Barry for organising the trip in such a professional way. We must also express our thanks to Sinead who was an excellent guide for the week. A special thank you to Father Stephen and Deacon John for their spiritual guidance, patience and prayers throughout the pilgrimage. Finally a very special thank you to all our fellow pilgrims who made this visit such a wonderful and memorial experience.
Bob Horton, 28th September 2011
Parish Pilgrimage to Newman's Oxford
On a sunny morning at the end of June some twenty members of the parish gathered for a pilgrimage to Newman's Oxford. The journey was enhanced by the Rosary led by Fr Stephen, and enlivened by his learned and concise description of Newman's work and life at Oxford; this gave us a context for what we were about to see.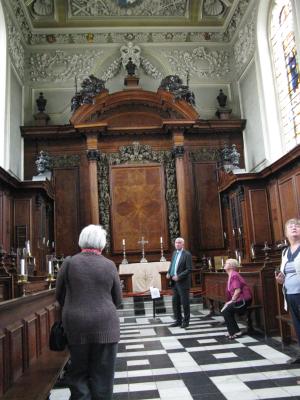 Our first visit was to Trinity College, where Newman was an undergraduate. By coincidence this was also Fr Stephen's college when he studied Theology, so he was delighted to be back. Our guide was the college bursar; quite fittingly a man from Durham, for the college had been founded by Benedictine monks from Durham in the thirteenth century. More fittingly still, the bursar came from the same Durham town as Eddie Barry, who had kindly organised the excursion for us.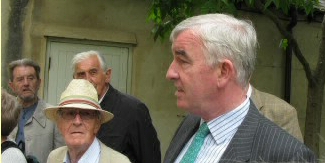 So we stood in Durham quad and admired the chapel, hall and library, which are at the heart of every Oxbridge college – somewhere to worship, somewhere to eat together, and somewhere to study. Newman arrived at Trinity in 1816, and we were able to view his rooms, but only from the outside, as they are currently occupied by two students. His portrait hangs in the hall of Trinity: in 1877, when controversies had died a little, he was to be made an honorary fellow of his college.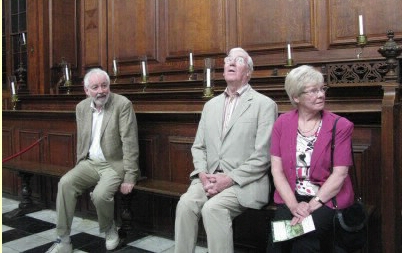 In 1828 Newman was appointed vicar of St. Mary's Church, having by this time left Trinity for Oriel College, where as an outstanding scholar he had been elected to a fellowship. St Mary's, the next stage on our pilgrimage, was in a sense the place where the university began. It was here that scholars gathered in the very early days before colleges were founded, and here that six hundred years later Newman preached his famous sermons as an Anglican who was beginning to doubt the claims of the Church of England. We gazed at the pulpit which he made his own, but unfortunately we could not stay long.
From St. Mary's we pilgrims travelled to Littlemore, an outlying part of St. Mary's parish.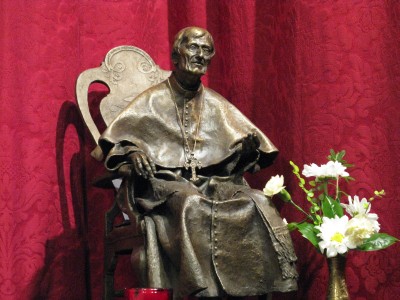 While vicar he spent considerable time there and built the Anglican parish church, still to be seen. But our object was to visit the "college" which he set up in 1842, having resigned from St. Mary's and "retired" to Littlemore. It was a company of like-minded men with a monastic way of life and here Newman prayed and studied and pondered his future. We saw his room and prayed in his chapel, where he said his first mass after being received into the Catholic Church by Fr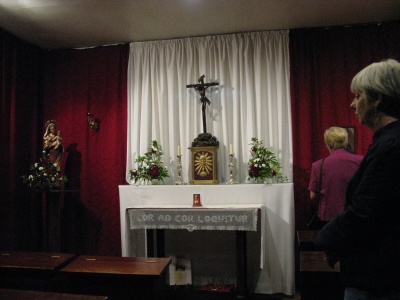 Dominic Barbari in 1845. The buildings and garden are beautifully cared for by the Sisters of the Work, and Fr Stephen said Mass for us in the very modern church nearby which is dedicated to Blessed Dominic. After his conversion Newman left Littlemore and Oxford to embark on the second half of his life, at Oscott, Maryvale and the Birmingham Oratory. After our prayerful and cheerful day in Oxford, another pilgrimage beckons!
Jim Toomey, 4th July 2011