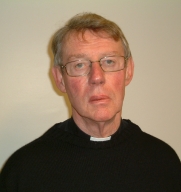 Dear Parishioners,
Changes to Mass times This Week
Due to the Birmingham Velo Cycle Race, Bewdley will be closed to cars on Sunday morning, 24th September. So for next week ONLY the times of weekend Masses have been re-arranged as follows:
Saturday 23rd September:
5.30 pm at St Wulstan's (as usual), 7.00 pm at Holy Family.
Sunday 24th September:
No Mass at Holy Family; 10.00 am at St Wulstan's (as usual).
SVP Awareness Month
The 27th September is the feast of St Vincent de Paul who inspired Blessed Frederick Ozanam to found the society named after him. In September we try to remind people of the work done by our society both here and all around the world. We are part of the social care arm of our Church and we try to spread the love of Christ throughout our area. We are His hands. However, our hands are very busy and getting older – we need more help. Could you give a little of your time to help us by visiting the sick, the sad, the lonely and the hungry? Christ said "just as you did it to one of the least of my family, you did it to me." We are blessed with two SVP conferences, so if you would like to know more please contact
Bridget Burford (Stourport) or Marie O'Brien (Bewdley) via the parish office.
Alan Collett RIP
Alan will be known to many of you as a longstanding parishioner and regular Mass attender. He passed away last Monday, 18th Sept. His funeral will be on Tuesday 3rd October at 11.45 am (St Wulstan's). His body will be received the night before at 7.00 pm. We pray for Ann, Tony and the rest of the family.
I will be on holiday in the coming week. Eucharistic services are as listed; I am grateful to Deacon John and the Eucharistic Ministers for seeing to this.
Fr Richard
Sunday 24th September 2017