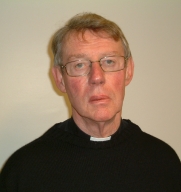 Dear Parishioners,
As usual there will be a raffle at Easter. Tickets are being printed and should be available next weekend. In the meantime we need prizes of Easter Eggs; please help if you can.
The CAFOD appeal last Sunday raised £968.43.
Thank you very much for your generosity.
Please pray for Frederick James Stokes, baptised at Holy Family last Sunday, and also for Elizabeth and Frederick Baxter who were baptised at St. Wulstan's.
Part 4 of our Lenten DVD on the Mass, by Bishop Robert Barron, will be shown at
10.00 am on Thursday 28th March at Holy Family, followed immediately by Mass.

Please remember the Lent Reflections at Holy Family on Fridays at 12.00 noon,
followed by a simple soup lunch.
There will be Stations of the Cross this Monday evening, 7.00 pm, at St Wulstan's
Remember that the Clocks go forward 1 hour next Sunday 31st March
Fr Richard