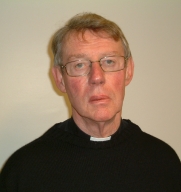 Dear Parishioners,
Week of prayer for Christian Unity: It is our turn to host the annual service to pray for Christian Unity this Sunday (21st) at 6:30 pm in the Holy Family Church. I am delighted to say that Rev Megan Gibbins, the new rector for Bewdley, will be present. A good Catholic turnout would be much appreciated to welcome Megan and also to say farewell to Rev Phil Hoar our local Methodist minister who is leaving later in the year.
Friends of the Holy Land: "Pie & Pint" lunch at St Ambrose Church Hall, Sunday 28th January at 12.00 noon. Tickets are £8.00 from FHL committee members, John & Marie O'Brien, Helen Golding or Mary Carns. Your Crib offerings over the Christmas period amounted to £278.12, which will go to the FHL. Thank you.
On behalf of all of you I would like to thank John Keetch who has donated a silver paten and a small ciborium to the parish
Welcome to staff, parents and pupils of St Wulstan's Primary School to our 10.00 am Mass at Stourport.
Can I remind you of the Parish Youth Ministry meeting at St Mary's, Handsworth, on the evening of Monday 29th January. If you can attend this meeting on behalf of the parish please see me. All expenses paid.
I was sorry to hear that Di and Mick Gallagher are moving to Wolverhampton. I will miss them and I'm sure you will as well. They have asked me to thank you all, the many parishioners in St Wulstan's and Holy Family, for all the help, love and support they have received whilst here in Stourport and that they will miss everyone.
Fr Richard
Sunday 21st January 2018