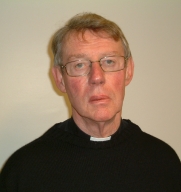 Dear Parishioners,
Please pray for the repose of the souls of Frank Collins, John Baylis and Mary McDonnell whose funerals have taken place over the last fortnight. Frank, John and Mary were all valuable and active members of the parish and they will be much missed.
The SVP are hoping to recruit new members. Can you help? For further details please contact me, Bridget Burford or the O'Brien's.
Now that the sale of the Hall has gone through we can turn to the redevelopment of the meeting room. An initial scheme has already been prepared and over the next couple of months detailed plans will be drawn up. I'll let you know when this has happened so that you can all have a look at them.
I want to thank the finance committee in particular for their hard work. As well as the sale of the Hall they have also had to look at Health & Safety, GDPR (data protection) and related matters. I am very grateful to them.
The Friends of the Holy Land are having a Tea Party; for details please open this link or see our parish newsletter.
There is a Second Collection this week for the Apostleship of the Sea.
Fr Richard