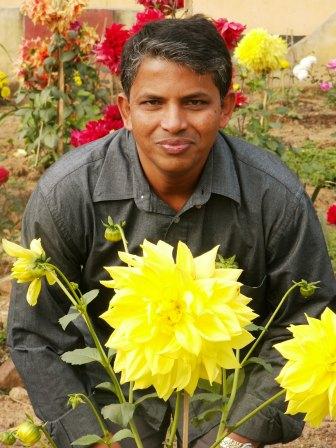 Latest News 2017
Niki and Rose have arrived back safely from their adventures in Garo Hills. This year's trip was the busiest yet and included Fr. Sunny's Jubilee Celebration, visits to the Bakdil run Primary Health Centres, Self Help Group Product Sales and Celebrations, inaugurating the new kitchen at the Dalu Federation building and an overnight stay in a very remote village! See the story of their trip through the links below.
January 2017
Download Niki and Rose's Itinerery
Niki and Rose's 2017 Garo Hills Diary
Niki and Rose's 2017 Gallery of Photos
*******************************************
December 2016
As you know, Fr Sunny has been celebrating his Silver Jubilee this year and the final
event (and the actual anniversary) is on 3rd January.
Niki Davies and Rose West will be travelling to Garo Hills on 1st January, arriving
just in time for this celebration and staying until 15th January.
While there they will inaugurate a Kitchen and Piggery at BAKDIL's Dalu
Federation Building and they will also help look for a site for a new Federation
Building in the East Garo Hills - an interior jungle area where there are currently no services.
This new building will again be funded by our parish donations so keep them coming!
If anyone has Mass intentions or messages of goodwill for Fr Sunny please see
Niki or Rose (or hand in via the parish office).
Niki will try to send messages back when she can so keep watching this page to
see her blog.
2016 Archive News
Fr Sunny's Official Silver Jubilee Celebration
August 2016
Niki Davies and Ann Booth and their families visited Kerala, Fr Sunny's home state in India, to attend his official Silver Jubilee celebrations in August. They took part in the celebrations, representing our parish, and expressed our best wishes to Fr Sunny and all his family and friends.
We have received a few photos (see below). If you wish to send Fr Sunny personal greetings you can contact him on sunnymavelil@hotmail.com
Photos from Niki and Ann at Fr Sunny's Silver Jubilee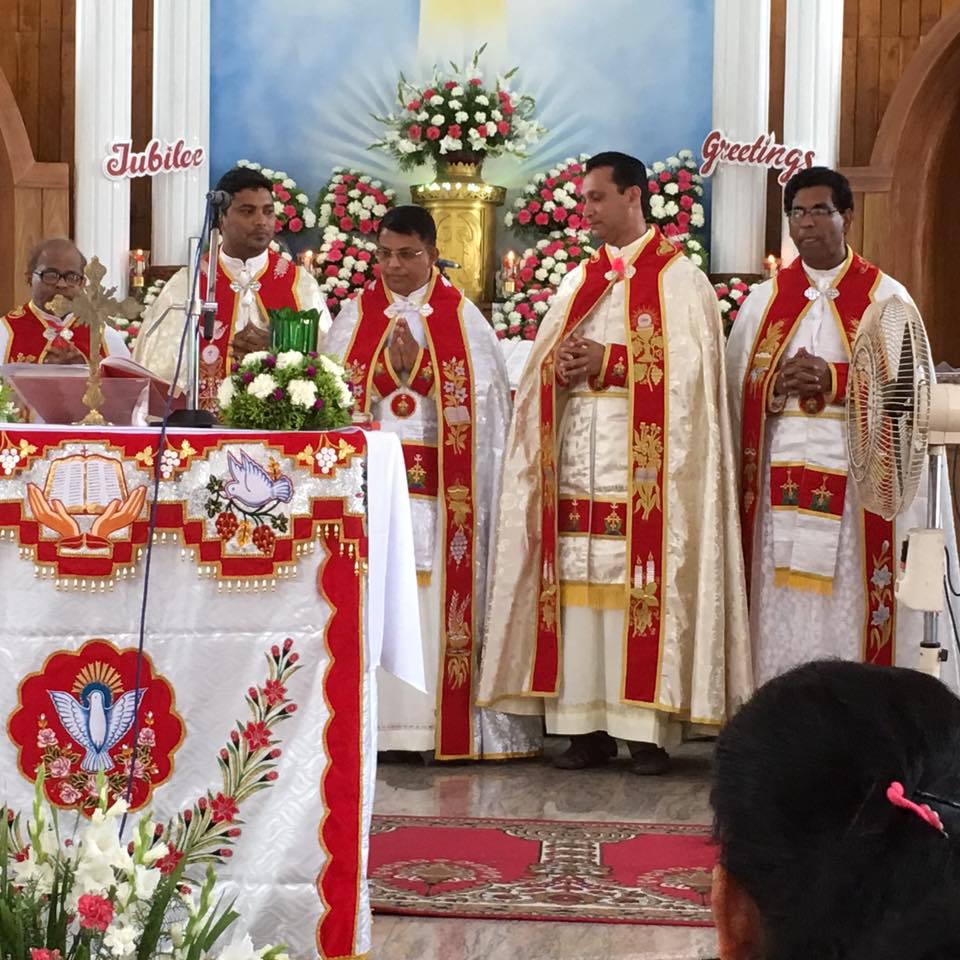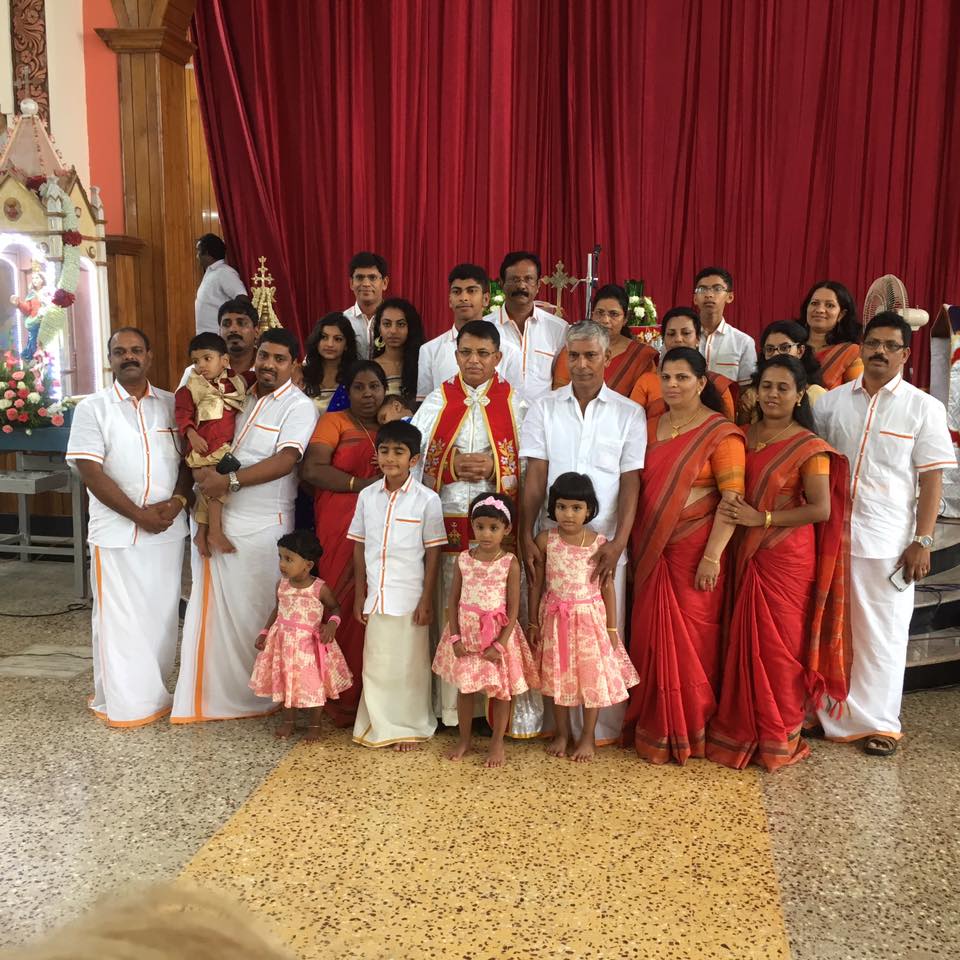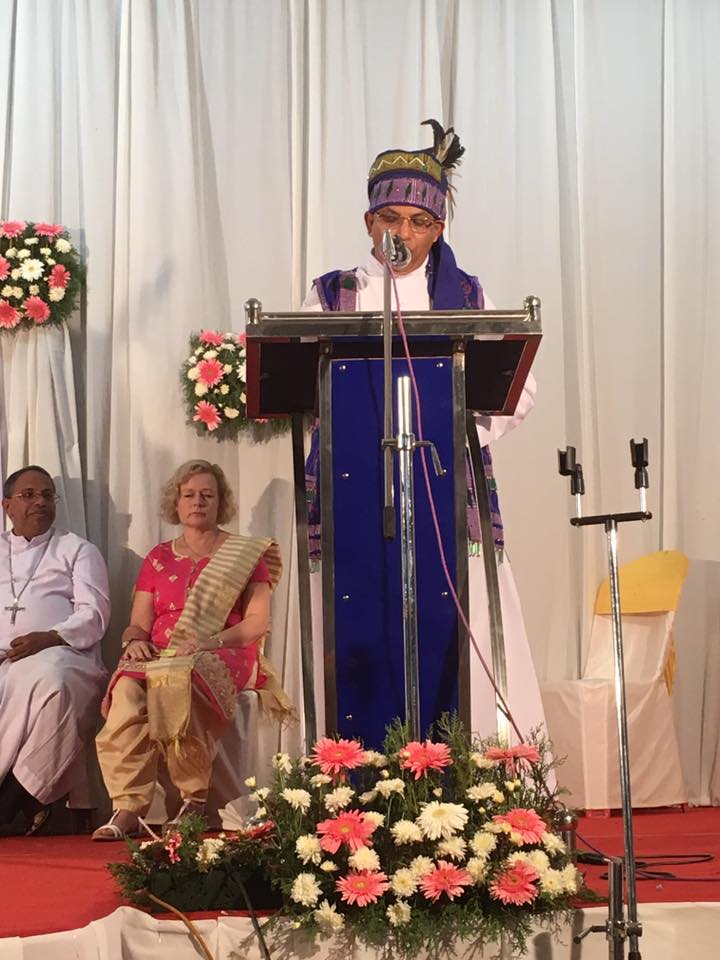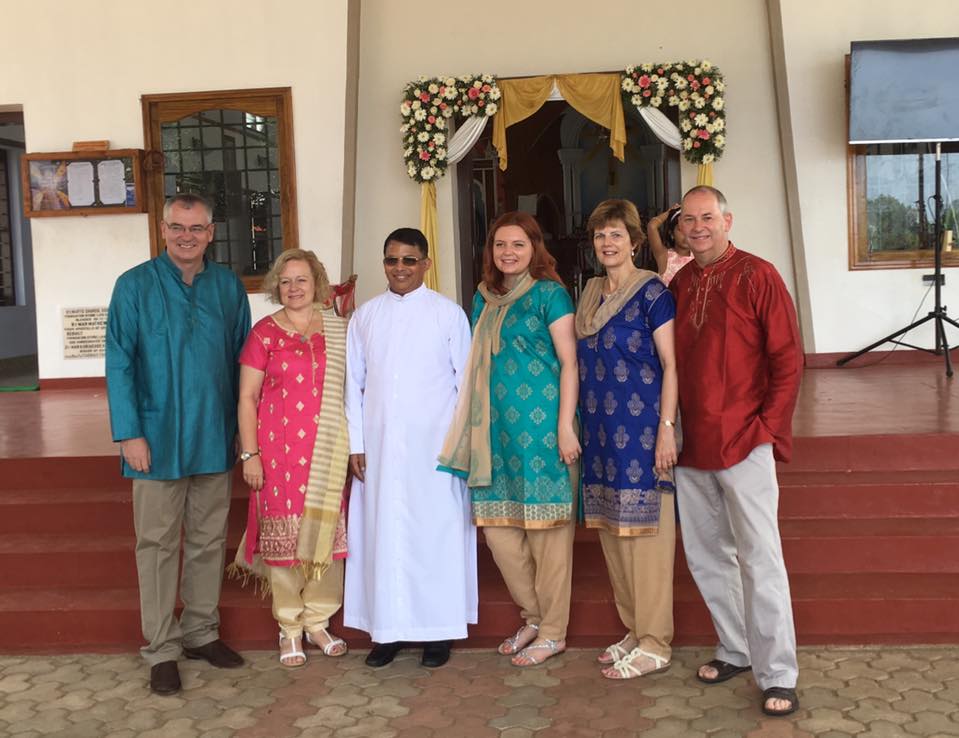 **************************************************
A Message from Fr Sunny
As he takes his leave of us for another year,
Fr Sunny has penned this message to all parishioners:
Dear Friends

last Sunday's Mass and later the afternoon tea was a memorable event in my life. It was very kind of you, under the leadership of Fr Chris, to have a really solemn celebration with so many of you present. For me it was an opportunity to, thankfully and in prayer, remember you and be united with you. I am sure it is God's hand and His Spirit that has led us so far and has guided you to be generous with the support both in terms of love and affection and money. With the apostle Paul and In humility I wish to tell you that
"where ever I think of you I pray with joy".

Sunny
********************
A huge thank you to everyone who supported the Midsummer Music in the Garden event. The weather was perfect and everyone enjoyed a relaxing afternoon and evening of high quality entertainment. Thanks to everyone's generosity a total of £3,500 was raised, to be shared between our two chosen charities: The Sunny Trust and Cystic Fibrosis Care.
*******************************************
Archive News from 2015
Read Helen, Niki and Rose's Garo Hills Diary 2015
From their November /December 2015 visit
Fr Sunny's Stourport Diary
Our official welcome on Thursday 25th June 2015, 7.00 pm at St Wulstan's Church went very well with many old friends and Sunny Trust supporters in attendance. Fr Sunny gave an illustrated talk on the recent work of BAKDIL, the social development organisation he heads in the Garo Hills. It is amazing to see the size of this operation now, which supports 200 villages in the area providing them with self help, helth care and skills to set up small farming structures and to sell their products. The Indian government and other organisations actively seek the help of BAKDIL to provide government funded, locally run, programmes in the area.
Since he arrived Fr Sunny has helped concelebrate Masses in the parish, including a very successful Healing Mass for sick parishioners last Wednesday.
He was with us for the Family Mass on 5th July and at the BBQ immediately afterwards. He said Masses in the parish while Fr Chris was away on retreat, and visited the school at Hagley. After a break to go on holiday to Europe with his brothers and their families he returned to Stourport on Monday 20th July. He celebrated house Masses during the week as well as the main Mass at Bewdley and Stourport on Tuesday and Wednesday.
Friday evening, 24th July, was our big Farewell Celebration in the form of a shared table Curry Night. Many of you demonstrated your skills at making Curry.
Fr Sunny flew home on Sunday 26th July but not before he had celebrated all the Masses that weekend and updated us on his vital work at home in the Garo Hills, including how his organisation, BAKDIL, has grown over the last 10 years and how The Sunny Trust has supported that growth at critical times.
Donations during Fr Sunny's visit totalled £681.00, plus £400.00 from Hagley High Non-uniform day. The special collection at Masses came to £1126.87, a great effort by everyone which will be put to very good use by the Sunny Trust.
Fr Sunny is now safely back in the Garo Hills where he says it is very hot. He really enjoyed his trip, seeing so many familiar friends and making some new ones. He says it was a very memorable visit.
If you would like to know more about, and see photos of, the many Social Care projects that Fr Sunny runs you can follow his work on the BAKDIL Facebook page.
If you would like to make a regular donation please see the Sunny Trust web site about setting up a standing order or speak to Niki Davies on 07909 564 323.
******************************
Older Information
Christmas Message from Fr Sunny
Dear Friends,
I wish you all a very Happy Christmas and a blessed New Year for 2015.
Thank you for your support during the year 2014, especially the support raised for the flood victims.
I will offer my midnight worship for all of you during the midnight of 31st December 2014.
God Bless you all.
Sunny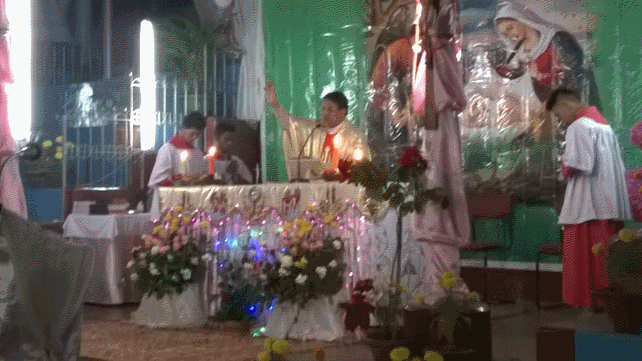 ***************************
What a great response from everyone to our Flood Disaster Appeal.
We collected £1811.11 which we will send straight off to help with clean up and repair work and to aid people most in need.
Fr Sunny has sent some photos of his staff at Bakdil hard at work delivering medical assistance, food and blankets.
This money will come as a great boost to them. Thank you.
***************************
Message from Fr Sunny 24th September 2014
about recent Flooding in Garo Hills
News Release about Flooding in Garo Hills
****************************
Older Archive News
March 2014
Fundraising Event:
Sunny Trust St Patrick's Show:
Thank you to all who came along to a very enjoyable event.
A total of £435.00 was raised towards the Fr Sunny Tractor Appeal.
Well done!
Easter Raffle
Please remember to purchase raffle tickets for the Easter Raffle
Great Easter Egg prizes.
Tickets are 50p each or £5.00 for a book of 10
Draw to be made Easter Sunday