St Wulstan & St Thomas of Canterbury Church, Stourport
A Short History of the Parish of St Wulstan and
St Thomas of Canterbury,
Stourport on Severn
By Fred Raybould
In the late nineteenth century the few Catholics who lived in Stourport had to attend Mass at St Ambrose' Church in Kidderminster. Meetings had been held in the Raven public house and in about 1911 the first post-reformation Mass in Stourport was celebrated in Miss Randle's tea room on the West side of Bridge Street. My uncle, Wilf Mulloy (1903 - 74) could remember coming to Stourport during the first World War with the parish Priest of St Ambrose' to serve Mass there once a month.
After Miss Randle's death there was no regular Mass in Stourport until 1935. In that year a chapel was constructed in Lodge Road by Alderman Thomas Pensotti (1853 - 1935), a prominent member of St Ambrose' parish. Weekly Mass was celebrated by a Priest from Kidderminster. An interesting, albeit not very complimentary reference to the chapel was made by Monica Baldwin (Stanley's niece) in her autobiography "I Leap Over the Wall", first published in 1949:
"The nearest Church was over at Stourport, which meant a three mile walk each way. Try as I would, I could never bring myself to do anything but dislike this tiny chapel of ease. It was cold. It was hideous. It was airless. And it was crowded to bursting point with Welsh and Irish factory hands. Mass could only begin when the Priest had finished hearing confessions, which went on indefinitely. During Mass, those members of the congregation who were not engaged in unrestrained bouts of coughing, sneezing or making almost unbelievable noises with - or without - the aid of a pocket handkerchief, sang, unaccompanied, the more flowing and unctuous of Father Faber's hymns"
In 1948 the chapel (dedicated to Saints Wulstan and Thomas of Canterbury) achieved the status of a church when Stourport was formally established as a separate parish. The first parish priest was Father Charles O'Reilly, whose presbytery was "Parkfield", 17 Minster Road, a house given to the church by Mrs Morris. Father O'Reilly was with us until 1952 when he was succeeded by Father Thomas Rohan who stayed in Stourport until 1958. He was followed by Father Bernard McAllister and Father John Bullen, each of whom spent only one year as parish priest.
In the late 1950s it became clear that, even though the Lodge Road church had been extended, the building still proved too small for the Sunday congregations. In 1959 therefore the parish acquired a building in Vale Road which had been a school and had also served as a British Restaurant during the Second World War; part of it (an old green hut) had once been Stourport's Public Library. The parish used the building for Sunday Masses and social
activities, the Lodge Road church being used for weekday Mass.
In 1960 a new parish priest appeared on the scene, Father Peter Cooney. In contrast to his two immediate predecessors, he was to spend a long time with us. He did not leave till 1970 - a ten-year tenure of office! He was responsible for setting up Saint Wulstan's Catholic Social Club, which reinforced the sense of parish community and opened up relationships with our non-Catholic neighbours.
During Father Cooney's incumbency the parish boundaries were extended to include Tenbury Wells, where a small Catholic community had gathered in 1936, served by Father Vincent Lucas, the curate from Saint Ambrose. Father Cooney, who did not drive, had to be taken each Sunday to Tenbury (a round trip of thirty miles) by Mr Ralph Whiteman, to say Mass at the Sacred Heart Church.
Columb Howell adds: Catholics in Tenbury used to meet in a local barn, owned and converted by Captain Avery, who was famous for having taught George VI at gunnery practice in the Royal Navy. The Priest used to come from St Ambrose, stopping at Bewdley to say the early Mass, and again to say a later Mass on his way back. The Captain died in the 1960's and bequeathed his house and land to the Diocese, where a new Catholic Church was built in 1974.
Father Cooney's successor, Father Sean Danaher, soon began work on the construction of a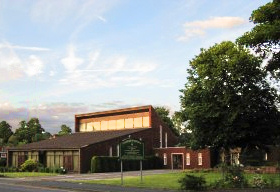 new church on the Vale Road site. Work started there in March 1973 and on 22nd December that year the church was opened and blessed by His Grace George Patrick Dwyer, Archbishop of Birmingham. The parish had also bought from Worcestershire County Council their Weights and Measures Office, which was next door to our church and was then linked to the church to provide accommodation for the priest, "Parkfield" having been sold.
The second of Father Danaher's achievements was the building in 1974 of a new church in Tenbury. He left the parish in 1976 and was followed by Father Peter McKenna. In the early 1980's the parish bought the former Congregational Church on the corner of Mitton Street
and Vale Road. This church (built in 1877) was extended and in 1982 was opened as Saint Wulstan's Community Centre. Also in 1982 the church of Saint Patrick in Birchen Coppice closed and that area was incorporated into Stourport. On Saturday, 18th June 1983 Saint
Wulstan's was formally dedicated by Archbishop Couve de Murville .
Father McKenna left in 1984 and the next parish priest was Father Patrick Downey. He stayed till 1987, when Father Douglas Lamb took over. Father Lamb was, for a while, assisted by
Father Fergus O'Connell, a priest on long-term sick leave. In 1988 Father Lamb was appointed Dean of the Kidderminster Deanery, a post that he still holds. In 1992 he was responsible for the erection of a new presbytery adjoining the church. Unfortunately he was unable to enjoy his new residence, for no sooner had he been presented with the keys than he was
transferred to Saint Ambrose' parish.
The tenth parish priest was Father (now Canon) Gerald Breen. He had only been here just over a year when the Hagley mini-bus disaster occurred, a teacher and thirteen pupils (two from Stourport) being killed.
Father Breen was here till 1998, his successor being Father John Cross. It was Father John's first appointment as a parish priest and it coincided with a major change in parish structure. The Holy Family church was now to be served from Stourport. The building in Bewdley (dating from 1778) had originally been a Unitarian chapel and was in 1896 used for a while by Methodists. Eventually the chapel fell into disuse until 1951 when it was bought for a Catholic Church by Wing Commander Alfred Howell. It was opened as a Catholic Church, the first Mass being said on Christmas (midnight) 1952 by Fr Patrick Moore from St Ambrose. The church was dedicated on 8th September, 1953.
First served from Saint Ambrose', the Bewdley church in 1965 became part of Birchen Coppice. For a short while Bewdley enjoyed the status of an independent parish, until it was incorporated into Habberley. Father Cross was to witness the Golden Jubilee of the Holy Family, when in 2003 Archbishop Vincent Nichols concelebrated Mass there.
Father Cross was transferred to Leamington in 2006, being succeeded by Father Stephen Pimlott. The achievement of his "reign" was the building in 2012 of an extension to the Holy Family church, to provide social facilities.
Fr Pimlott was succeeded, in 2013, by Fr Christopher Greaney who came to us from Oxford and was with us for three years until failing health caused early semi retirement in Leamington Spa, near to his great friend, the aformentioned Fr Cross. Now on our 14th parish priest, Fr Richard Sharples joined us in September of 2016.
Our Patronal Saints:

St Wulstan was the 11th Century Bishop of Worcester and local Saint who was responsible for the building of Worcester Cathedral. He was born at Itchington, Warwickshire, in 1008. His name was created from half his mother's name, Wulfgeva, and half of his father's name
Athelstan. He learnt to be a good Christian from his parents. Wulstan was appointed Bishop in 1062 and was the only English Bishop to survive the Conquest, such was his standing. He died in 1095.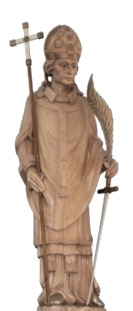 St Thomas of Canterbury: Thomas Becket was born around 1120, and quickly became an agent to Theobald, Archbishop of Canterbury. Becket's talents were noticed by Henry II, who made him his chancellor and when Theobald died in 1161, Henry made Becket archbishop. The king and his archbishop's friendship was put under strain when it became clear that Becket would now stand up for the church in its disagreements with the King. On the 29th December 1170, four knights, believing the King wanted Becket out of the way, confronted and murdered Becket in Canterbury Cathedral. He was made a saint in 1173 and his shrine in Canterbury Cathedral became an important focus for pilgrimage.

The Presbytery, 32 Vale Road, Stourport-on-Severn, Worcs. DY13 8YL

Telephone : 01299 822633