The Garo Hills Diary

from Helen, Niki and Rose on their Nov/Dec 2015 visit
Message 1: Friday 27th November
Message 2: Sunday 29th November
Message 3: Wednesday 2nd December
Message 4: Monday 7th December
Message 1: Friday 27th November
Hi All
We've arrived! The journey went well, only a short delay. It's 11pm so we're off to bed. Will send a longer message tomorrow.
Niki, Rose and Helen x
Message 2: Sunday 29th November
Still struggling with getting into a good sleep pattern....the local cockerel and dogs are very vocal from midnight onwards!
We've been busy already and we've only had 2 days here....Saturday morning we attended a large meeting of all the Bakdil staff (Bakdil : the charitable, non govermental organisation, which is run by Fr Sunny to carry out all his work) for their monthly updates on all the projects and programmes going out on. A lot of information to take on board but a good catch up with all that is going on.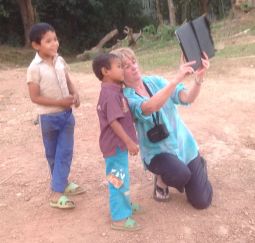 Today was full on....we were up early for a good breakfast of porridge followed by rice pancakes and potato and boiled egg curry. Then off to Babadam, about an hours drive, for a Garo Mass in the new parish with Fr Mani, lunch at Babadam PHC (Primary Health Centre) with the Sisters then in to two villages for interaction with the local people. Fr. Sunny was busy, so Sr. Dolly accompanied us.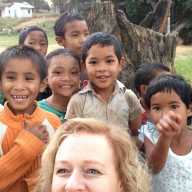 As ever, we were so welcome in the villages. The children sang and danced and Rose and I learnt a little traditional dance with them. Very sweet black tea and biscuits in the first village we visited and then a real banquet in the second put on by a lovely family. People came from all around and all wanted to shake our hands and have photos taken....selfies on the iPad went down well with the children.
A brief visit to the Bakdil Training Centre for more coffee and papaya and now here we are back at the Bakdil office for our 4th and hopefully final meal of the day!
Please pray for Sunny, he has had a fever today and has had typhoid diagnosed.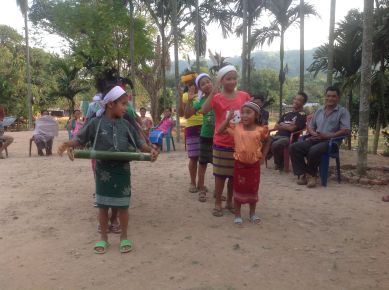 Message 3: Wednesday 2nd December
We've had a really busy couple of days away from the Bakdil office in Tura.
As you would expect, it's been curry for breakfast, lunch and dinner! So far, so good, our stomachs are holding up well.
Yesterday we had the inauguration of the Bakdil Branch Office in Baghmara in South Garo Hills. A grand occasion with the Bishop, the local MLA (their MP)....with his armed guards and about 1000 people. Lots of Garo dancing and singing, speeches, photos, curry.....and we all have our names carved in marble on a plaque on the building.
We've spent time in some villages, drinking sweet tea and eating more curry.....we had 4 meals in one day....it's rude to say no! Interactions with the people have been great.
In Purakasia at the SHG (Self Help Group) Exhibition a village debate ensued and we were each given a Garo name.....
Niki....now known as Kasanchi meaning 'with love', Helen....now known as Tapre meaning 'the one who preserves her own land' and Rose....now known as Silkame meaning 'ever beautiful'.
We've been to 3 PHC's so far out of the 5 managed by Bakdil and it's been a real joy to meet again with Sunny's staff whom we have met so many times before.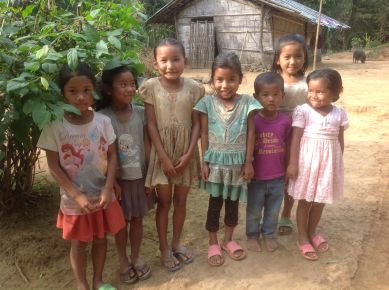 We have a 'touristy' day planned tomorrow....our driver is taking us to his wife's village and we are going sight seeing with his family to the highest peak in Garo Hills.

We'll post some more photos soon (keep checking back).

Message 4: Monday 7th December

Jisuna Rasong to you all

A very busy few days. We've been spending a lot of time in the villages, looking at the great work being done by the Self Help Groups, the Producer Organisations and the Tribal Development Fund. Sunny has stayed in the office each day and the Bakdil staff have been accompanying us to the different areas of Garo Hills that they have responsibility for.

As usual, the food has been amazing and we are eating far too much. Everywhere we go we get fed! Seeing it being prepared and cooked can be a little of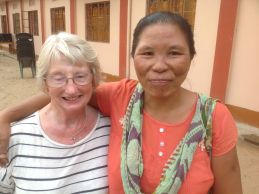 f putting but you have to get past that. All our stomachs are holding up so far!

We had a lot of religion on Sunday....a 2 hour Mass, a 1 hour Eucharistic Procession around the town of Tura and a 1 hour prayer service to conclude! All in the midday sun!

The people in Garo Hills are just so friendly and welcoming and the children are so well behaved.....and quiet....except when they are shocked by our white faces, then they cry!

We popped into the Sisters of Charity home this evening that is next to the Bakdil office....about 50 'inmates' with various disabilities....all so sweet and loving, then we went to a house warming party of a staff member in Tura.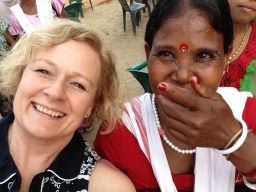 Sunny is slightly better but has continued to work through his typhoid....not the best thing to do as he should be resting!

We've got a busy couple of days ahead...an SHG exhibition tomorrow in Dalu at our Federation building, then the inauguration of the new extension there the following day, followed by a Bakdil staff pre Christmas celebration for about 200 people at the Bakdil Training Centre....hopefully there will be drums, singing and dancing.

The trip has gone so quickly and we have packed so much in but our journey home starts on Thursday morning travelling back to Guwahati via the 2 PHC's we haven't yet visited at Gabil and Wageasi.

I think the weather in England is going to be a bit of a shocker for us!

Love to you all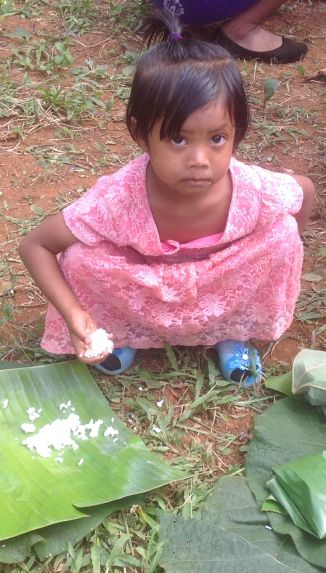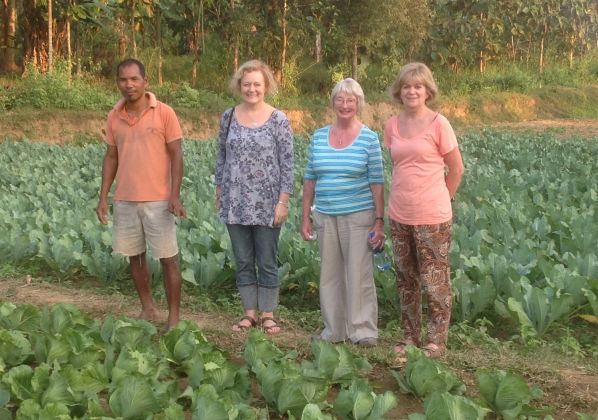 We're back, safe and sound with some funny stories to tell from a very busy and memorable trip.
The last couple of days were really full on....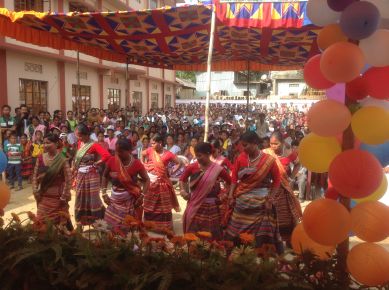 The inauguration of the Dalu Federation extension was a great affair. About 1000 people, the usual Honourable Guests....Bishop Andrew, local politicians with their armed entourage, singing, dancing, speeches, etc. It is fabulous to see the SHG's working so well together and the progress that has been made with the Federation building at the core of the community. Dalu is a place we have visited many times and so it was lovely to see so many familiar faces and old friends like Gloria.
We finished the day off with the inauguration of the publication produced by Bakdil documenting the 6 years of running 5 Primary Health Centres in Garo Hills. A really big celebration at the Bakdil Training Centre. The evening also included giving out certificates to the young people who had completed their tailoring and mechanic & driving courses and awards to the best ASHAS (voluntary community health workers) from the PHC's.
Once all the dignitaries had gone we took the opportunity to get changed into our tukmundas (Garo skirts) and have a good old dance to the drums with the youngsters outside....a real hoot.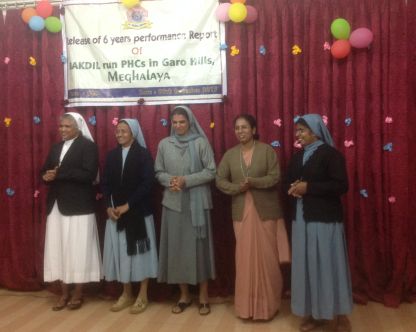 Our journey back to the airport on Thursday took us via the Wageasi PHC. We did the same on our last visit in March 2012 where Helen and I were honoured with having babies that had been born that day named after us. Well, we had an amazing surprise waiting for us....Sr. Ria, in charge of the PHC had arranged to have little Helen and Niki collected from their villages and brought to meet us! It was such a joy and we were able to spend about an hour with the them and their families.
Thank you for all of your prayers while we have been away. I think this was the busiest trip we've had so far and without a doubt a very successful one. The progress and improvement in the opportunities for the people of Garo Hills was really evident and we saw many examples of the work of Bakdil and Fr. Sunny and how they impact on the people in some of the poorest and most remote areas of India.
We will arrange a presentation evening in the new year so we can share more stories and photos from our trip which you will all be welcome to.
Back to Top Back to Sunny Trust News
The Presbytery, 32 Vale Road, Stourport-on-Severn, Worcs. DY13 8YL

Telephone : 01299 822633
E-mail: parish.stwulstan@uwclub.net