The Garo Hills Diary
from Helen and Niki
on their recent visit
(Feb 2012)
Message 1: Arrival
Message 2: First Day
Message 3: Down to Work
Message 4: Two Days in School
Message 5: Final Leg
Message 6: Back Home
Greetings to you all from the sunshine here in Garo Hills!
We arrived safely in Tura at around 10.30 last night after a full 24 hours of travelling. We both slept well despite the friendly cockerel crowing from 1am when the power went off.
It is so wonderful to have said 'Jisuna rasong' to so many friendly, familiar faces this morning.
Fr. Sunny appears to be in better health and is running around like a mad thing - our itinerary has already changed! He is so touched by all of your good wishes to him. He has read all of your letters and cards and was just so pleased to receive them all, they really seemed to have boosted his spirits.
Today, preparations are in full swing for the inaugural function of the Silver Jubilee of Bakdil. This will take place on Monday and will be attended by the Chief Minister of Meghalaya - the most important Government Minister in the whole of Meghalaya (after Fr Sunny of course)!
I have already realised very quickly this morning what the next fund raising project should be - a swimming pool and sun loungers. The temperature is really high and it is only 11am. It's amazing the difference visiting just a month later in the year seems to make in the climate!
Well, we have a busy day ahead. We are off to the Training Centre at Walbakgre to help with the Silver Jubilee preparations.
I will keep you all up to date with our news as often as I can. Please keep us in your prayers.
Love to you all
Niki and Helen xx
Hi all
We had a long and busy day yesterday. Up at 6.30 and off to a village Health Camp after a hearty breakfast of pasta, chapati, chick peas and fried egg.
I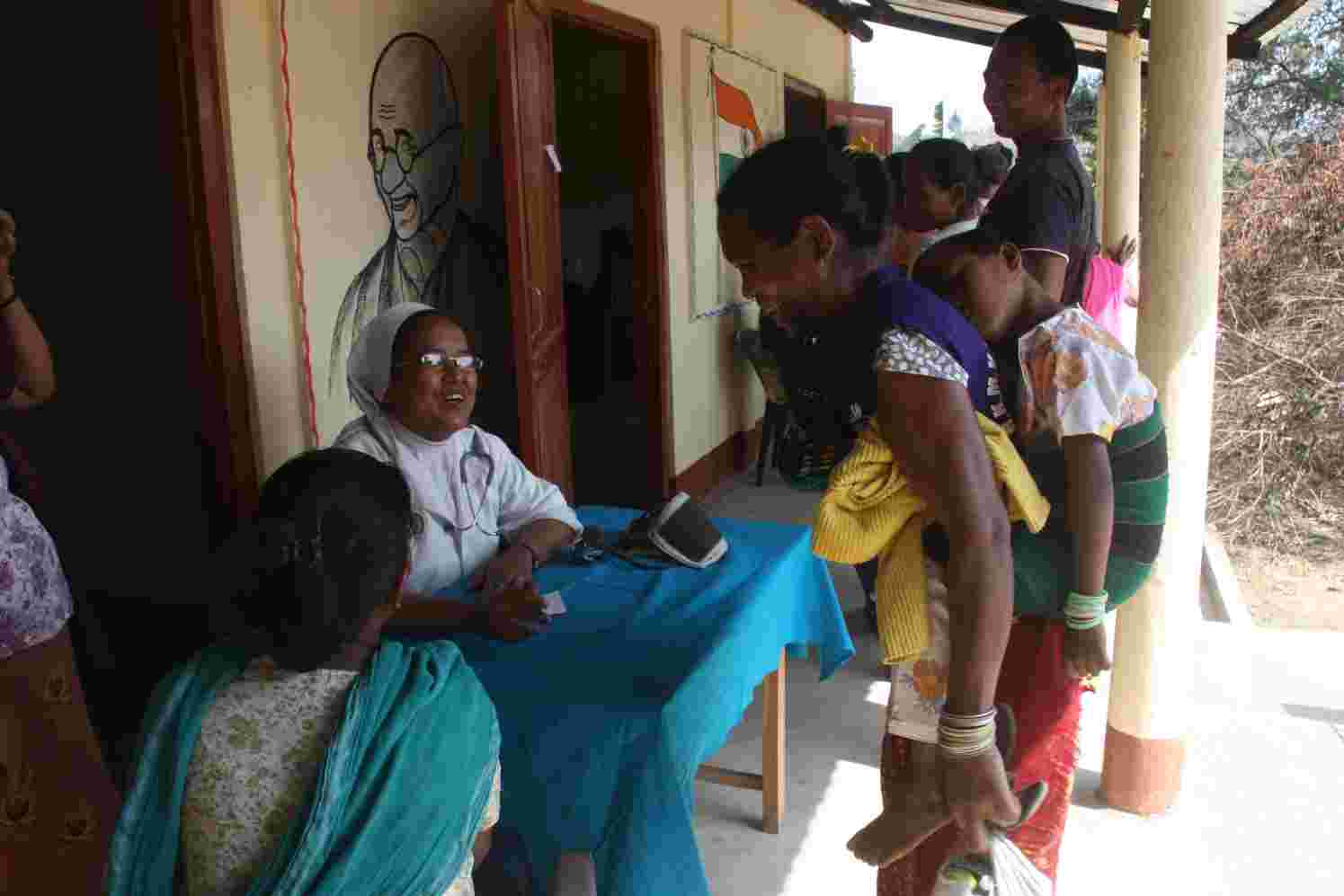 t was wonderful to see such good work in action.135 people were seen by the doctor and nurses. All were given vitamins, some needed anti-biotics, malaria medicines and pregnant mothers were examined.
We had a great reception from the people who were so friendly and welcoming.
It is extremely warm here and quite windy so everything is really dusty including us! Electricity has been a bit intermittent and yesterday evening there was no water.
We've just been to Mass at the Parish Church next to Bakdil and shortly we are off to Babadam Primary Health Centre to spend the day with the Sisters and staff.
We will be in touch again soon with more news - tomorrow we have the big Jubilee celebrations.
Love to you all. Please keep us in your prayers.
Niki and Helen
Greetings to you all from sunny Garo Hills.
We have had a very busy time here since our arrival.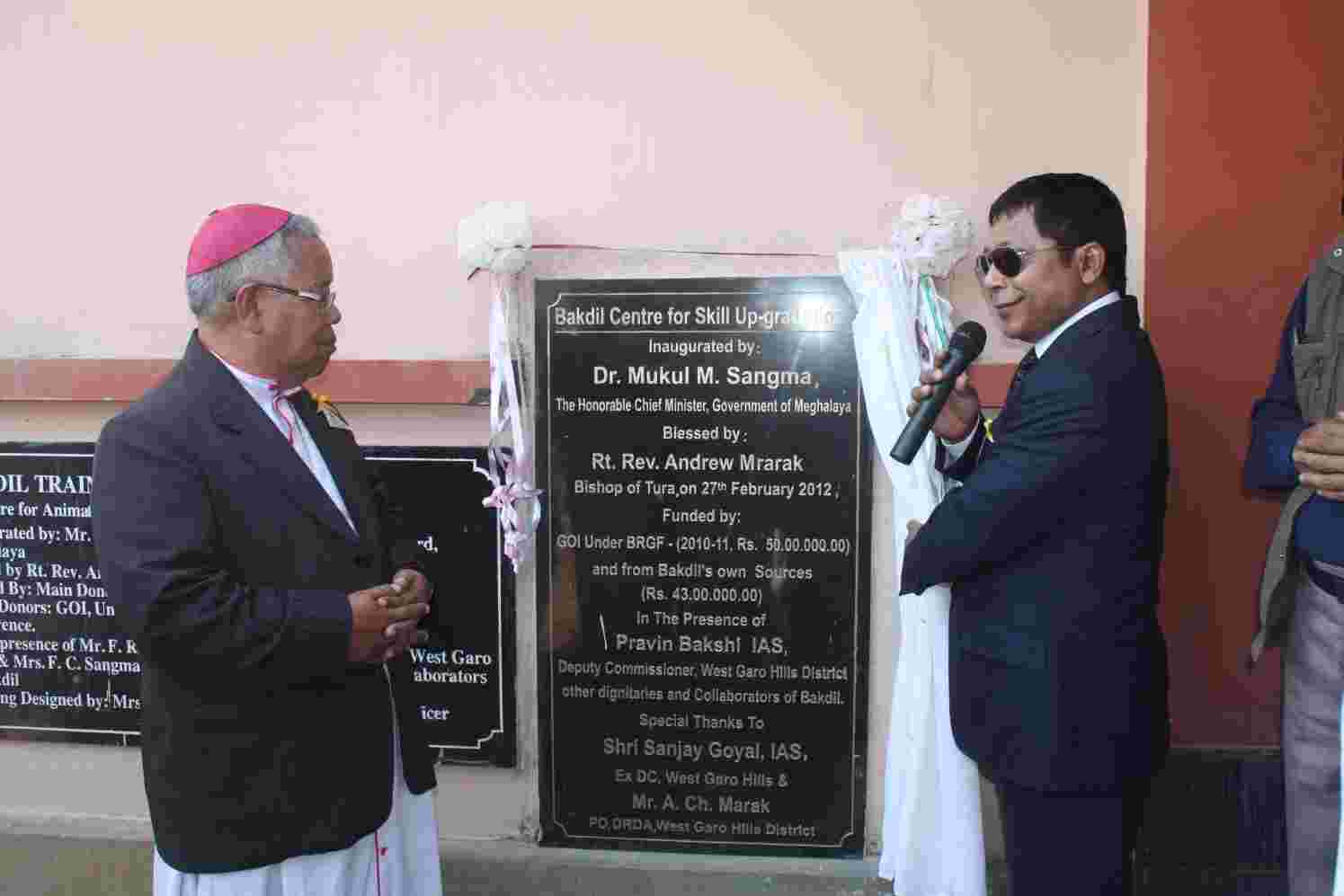 Monday was the Inauguration Programme of the Silver Jubilee Celebrations for Bakdil. It was a fabulous day. The Chief Minister of the Government of Meghalaya attended, Dr. Mukul Sangma which was a great honour for Fr. Sunny and Bakdil. He is the 'Prime Minister' of the state and a Baptist and this is the first Catholic function he has attended so it really shows how far Bakdil has come in the past few years and its impact in the local community.
1000 people were at the function, including 200 police, army and armed guards for Dr. Mukul. There were even 10 snipers on the roof of the Bakdil Training Centre! ....So much to tell you.
After the function Helen and I travelled 3 and 1/2 hours to Baghmara Parish to stay with Fr. Thomas.
T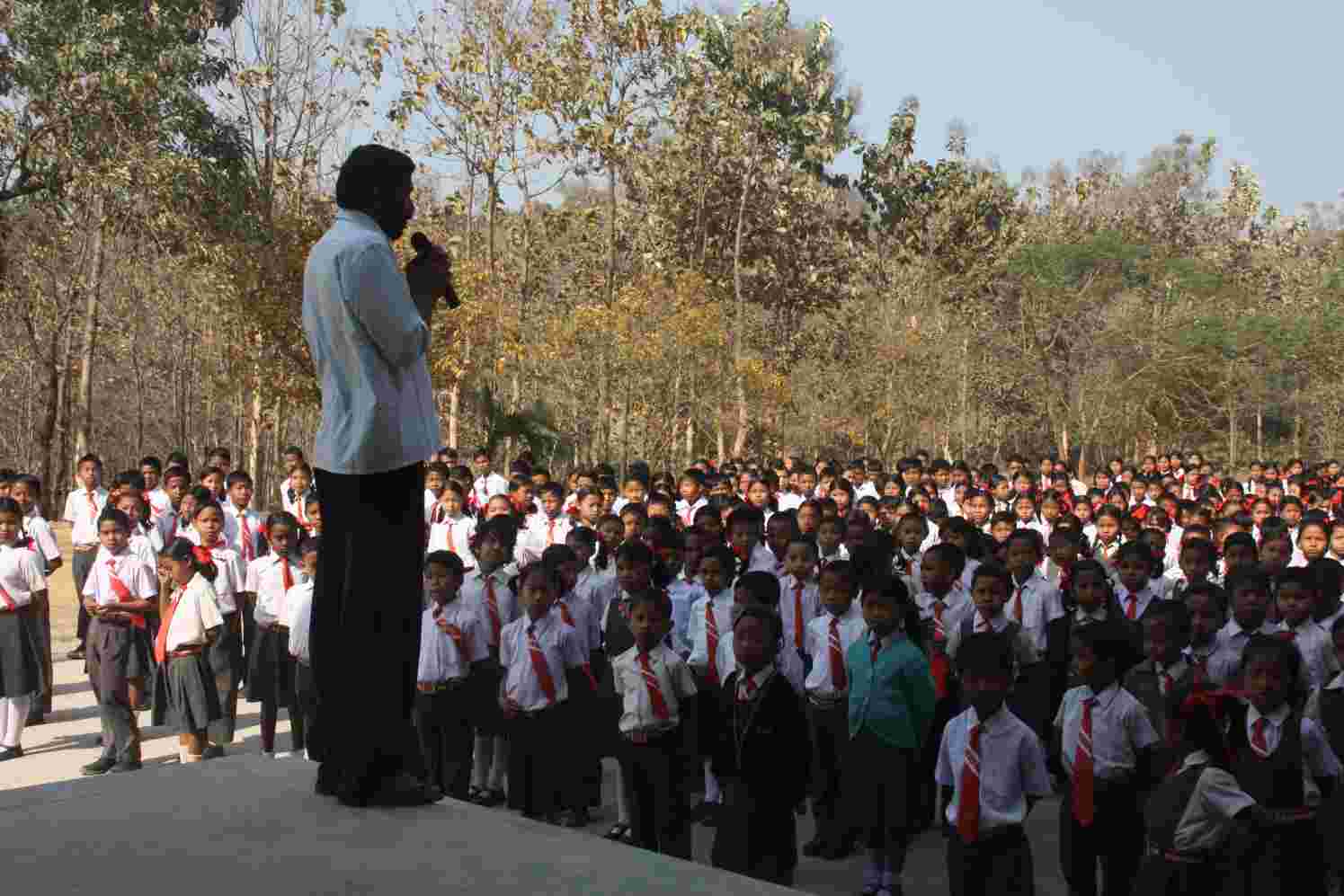 uesday morning we were up for Mass at 6.30am and then we attended the Inaugural Programme for the Sports Week at the Don Bosco School. The school has 900 pupils from reception up to Class 10. In Reception there are 113 pupils with 1 teacher - can you imagine it?
The celebration was very well organised and the children were amazingly well behaved - the local politician was 45 minutes late and it was extremely hot for us all waiting It was just like the Olympics - there was an opening parade of the teams, the flags of the sports houses were displayed and I even had to light the Olympic flame!
We then spent 5 and 1/2 hours in the jeep travelling to the Primary Health Centre at Salmanpara for a thanksgiving Mass for the 3 Sisters who have completed their time running the PHC for Bakdil. It was very, very emotional during the speeches because they have so enjoyed working for Bakdil and with the team of staff that live with them there at the PHC. In the 3 years they have been there they have safely delivered more than 400 babies and saved many lives. Saying goodbye to them was so hard for us also as we have come to know them over the past 3 years and shared some lovely experiences with them, particularly Sr. Cat.
Today we are firstly going to a school in Tura where Fr. Biju is the Headmaster and apparently I am taking a lesson for Classes 9 and 10! Then we are off to Chapahati to see Fr. Kurian where we will spend the day tomorrow with the children at The Good Shepherd School.
Sooooo busy, but that is how we like it!
Love to you all. Please keep us in your prayers.
Niki and Helen
Hello to you all.
Well, we've just arrived back at the Bakdil Office after 3 nights away, desperate for a bath (a bucket of hot water with a jug) only to find there is no water!
We had a great 2 days with Fr. Kurian at the Parish of The Good Shepherd in Chapahati where we spent a whole day with the school children.
At first, in the playground, we were surrounded by virtually all of the children. We felt like animals in a zoo! At assembly I gave a talk and Fr. Kurian explained that although we had white skin we were not angels and that they should not be frightened of us!!!!
We visited every class, all 10 of them, and talked with each one.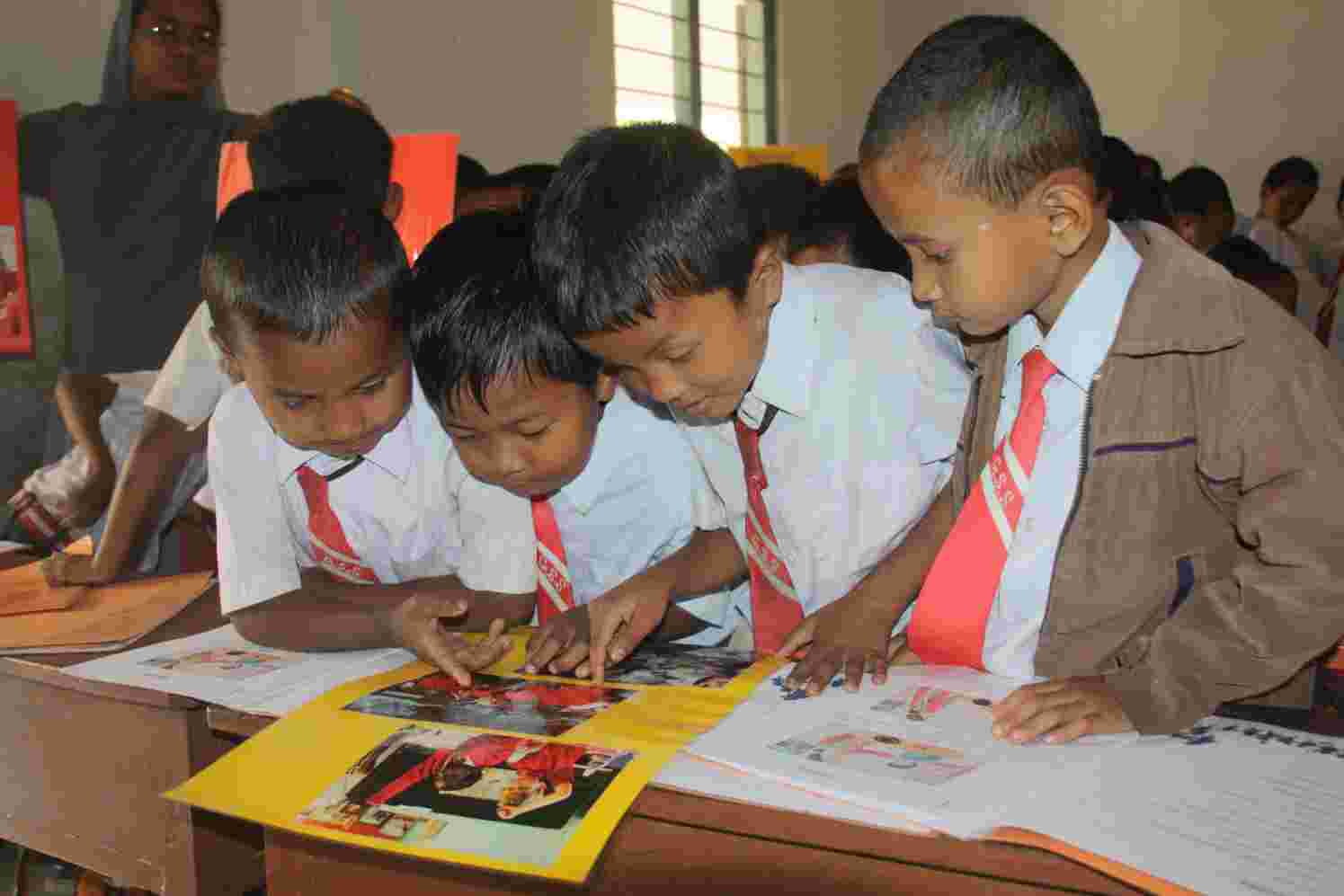 We told them about our own school, St. Wulstan's and showed them some pictures of the children there. Most were very shy and did not want to ask us questions but because all of their lessons are in English they could understand us quite well. The girls in the top class asked for our autographs and it was like being a real star the amount of books we had to sign!
Then off to the parish of Purakasia to Fr. Thomas who is very keen on animals and has pigs, chickens, ducks, rabbits, birds and a monkey called Mannu.
Again we spent time with school children and in the evening we had Rosary, Stations of the Cross and Mass, all of which took 3 hours. The poor little ones at the front, some as young as 4, were struggling to stay awake - mind you, so were we.
Today we went to the Federation building at Dalu which was funded by The Sunny Trust where we had a Jubilee Celebration with all the Self Help Groups. The Bishop and the Minister for Community and Rural Development attended along with all of his armed security! It was a great day - more welcome songs and speeches.
Some of the SHG's were selling their wares and I (Niki) bought an Assamese sari and got them to dress me up in it - much to the enjoyment of the locals.
Still plenty more to do. Tomorrow we are attending the Catholic Nurses Guild Meeting here at the Bakdil office and then on Monday we are visiting a Bakdil Weaving Centre - so no relaxing in the forseeable future.
Love to you all. Please keep us in your prayers.
Niki and Helen
Dear all
This will be our last news from Garo Hills before we are back in Stourport.
Yesterday we had a fairly quiet day, staying in Tura. We had Mass with the Catholic Nurses Guild with Fr. Sunny in the Bakdil office and later we popped to see the Sisters of Charity working next to the Bakdil office. They are 5 sisters looking after about 50 people of all ages, young and old, with varying disabilities - physical and mental.
They were very proud to show us their livestock which included chickens, rabbits, Guinea pigs and rats - all for eating!
Tomorrow morning we are setting off from Tura to a parish called Mendipathar (about 3 hours drive away). We are visiting 2 villages for 2 inauguration programmes. Both are for new Weaving Centres. We will stay over night in Mendi and then travel to Guwahati to the airport on Wednesday.
Our time here has flown by and we really have had a wonderful time.
We look forward to being able to share our stories and photos (100's and 100's of them as usual) with you on our return.
Please pray that we have a safe journey home.
Love to you all
Niki and Helen
Dear all
Just to let you know we are home safe and sound.
We finished off our trip at Wageasi PHC on Wednesday where Helen and I were very honoured to have 2 newborn babies named after us.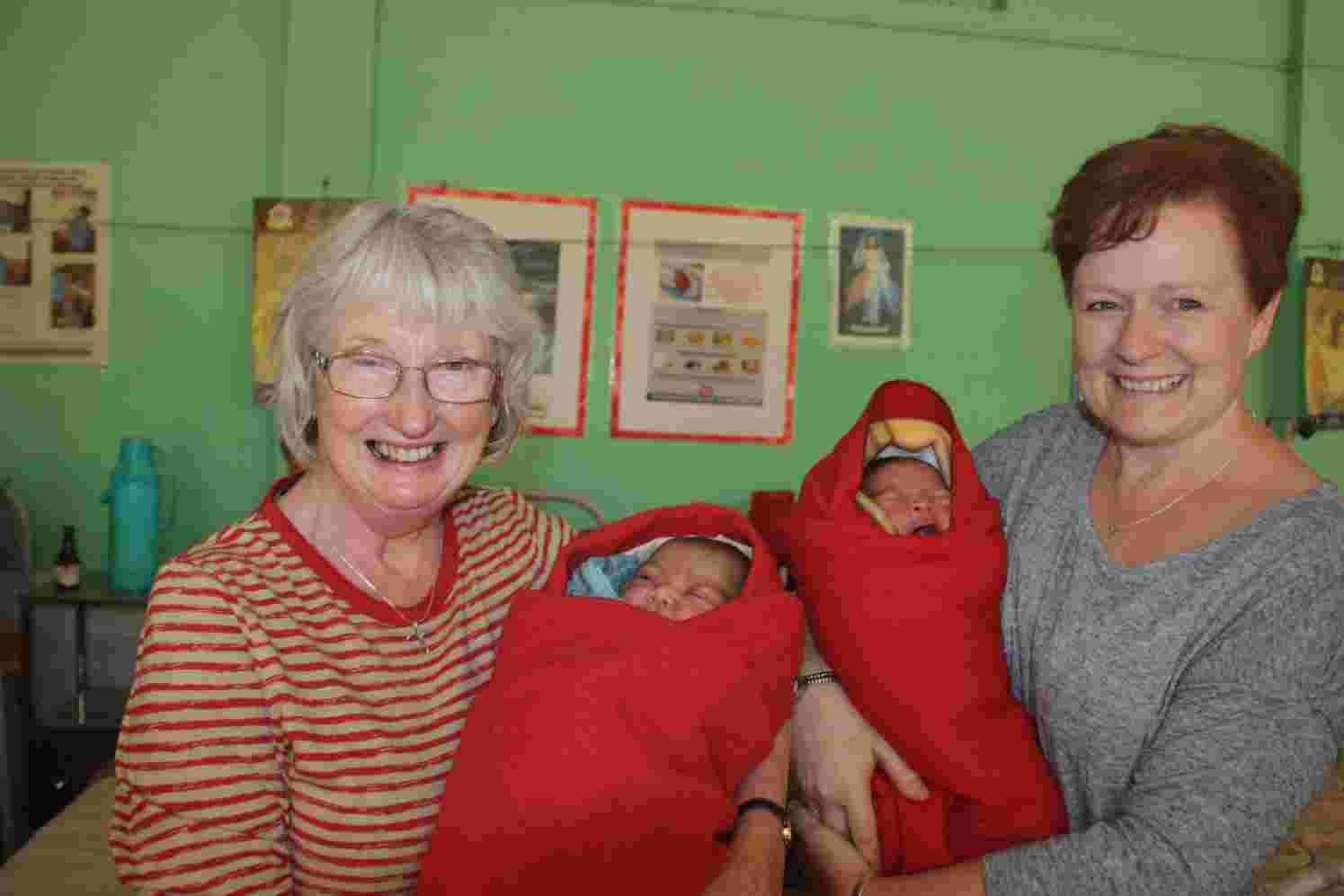 Helen is very proud to be the Ambi of Helen Sangma a very bonny Catholic girl and Niki is a very proud Auntie to Niki D'shira a very cute Baptist boy! Such a fantastic way to finish off our trip.

We're looking forward to sharing our photos and stories with you shortly, we will arrange a date for a couple of talks and let you know.

Thank you for all of your kind wishes and prayers while we have been away.

Love to you all

Niki and Helen

The Presbytery, 32 Vale Road, Stourport-on-Severn, Worcs. DY13 8YL

Telephone : 01299 822633
E-mail: parish.stwulstan@uwclub.net